Liquid museum
L'idea del Museo Liquido, nata per partecipare al concorso "Alternative Designs for  Museums" (2017),  deriva dalla morfologia delle molecole d'acqua, che si uniscono e separano a velocità vertiginose, dando origine a ciò che conosciamo come fluidità del liquido per eccellenza. Si tratta quindi di una struttura galleggiante componibile in grado di cambiare forma e dimensioni grazie alla combinazione di due moduli.
Il Museo  Liquido è dinamico e cangiante, e può adattarsi e integrarsi a paesaggi differenti, prestandosi a infiniti scopi e usi; non conosce confini, non si lega a un solo luogo,  non chiede ai possibili utenti di spostarsi, ma naviga verso di loro. Accoglie qualunque evento legato all'espressione della creatività, dalle mostre tradizionali ai workshop, dalle proiezioni cinematografiche alle performance. Incoraggia l'interazione tra artisti e la gente del posto, offrendo residenze per artisti, impegnando e stimolando le comunità locali.
Con Claudia Anzani (programma culturale) e Greg Butler (illustrazione); modellazione digitale e render di Carmine Sica. Luglio 2017.
v. https://goldsmiths.academia.edu/ClaudiaAnzani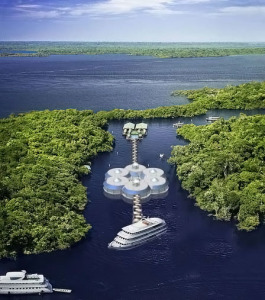 Inspired by the morphological versatility of water molecules, bonding and unbinding at an unimaginable speed, The Liquid Museum is a pop-up floating venue composed of many floating modules able to change dimension, take various shapes and fulfill the most diverse tasks in different places.
The liquid museum is dynamic, which is why we have made its configuration changeable: it can adapt and integrate to different landscapes, and its flexible layout lends itself to infinite purpuses and uses. We don't like boundaries of any kind, therefore we avoid long-term commitment to any particular location. Our goal is to serve international, diverse audiences, not by inviting them to come to us, but by physically moving towards them.
As a floating museum, we can offer anything, from art exhibitions to workshops to film screenings and performance. We encourage the interaction between artists and the people we serve; this is why we offer residency programmes for artists, supporting projects which engage and stimulate local communities.
With Claudia Anzani (cultural plan) e Greg Butler (illustration); 3D model and  rendering by Carmine Sica. July 2017.
See https://goldsmiths.academia.edu/ClaudiaAnzani